TBM OFFICE


Located in the heart of Ginza district in Tokyo are the new offices of Times Bridge Management (TBM), designed by New York City based Clouds Architecture Office. Upon entering the new space, ones eye is drawn across a series of curved walls enwrapping a centrally placed mound of crushed limestone. This raw material is at the core of TBM's business strategy, as they have been developing various ecologically minded products made from limestone. Their patented initial offering LIMEX, is a paper stock made from limestone powder.

The full floor space is subdivided by curved glass walls that energize the open work area, fostering the innovative work of this young start up. Part of the curved walls are faceted into thin vertical strips of glass creating distinct kaleidoscopic reflections that activate the otherwise plain horizontal office slab.

The existing dropped ceiling is split into thin bands by linear strip lights. This horizontal striation is repeated on the floor to increase the volumetric awareness of the space. The lines imply a continuous field upon which the curved figures of the private spaces are placed. This doubled linear field dematerializes the floor and ceiling planes, suggesting a sensation of hovering.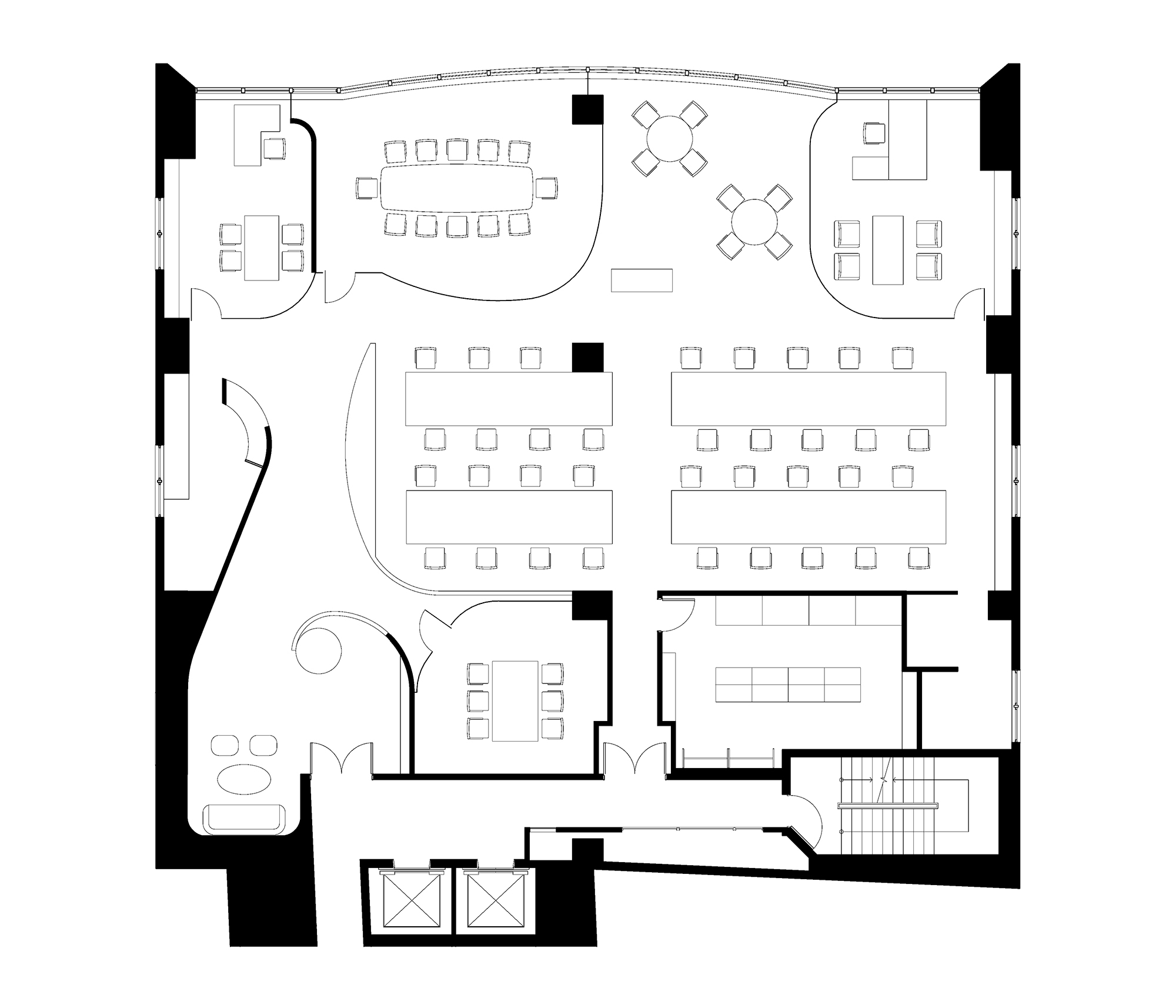 Glazed partitions are placed strategically to maximize transmission of natural light, while glass translucency is modulated to provide visual privacy as required by programmatic use. Conference rooms are given distinct identities through the use of material, while an open lounge area and counter are integrated into the showroom to allow for an informal meeting space. The main open office space contains a mixture of fixed and flexible desk spaces to offer more fluid options for various work styles.



Location: Ginza, Tokyo, Japan
Date: November 2016
Project Team:
Design Architect: Clouds Architecture Office
Project Designers: Masayuki Sono, Ostap Rudakevych
Executive Architect: Miyazaki Architects and Associates
Graphic Designer: Amana inc.
Builder: Space Co., Ltd.
Photography: GION